Restocking is a method many players use to make Neopoints. It can generate a lot of profit if done correctly! However, some luck – and skill – is definitely required. In this guide, we will show you how to restock like a pro.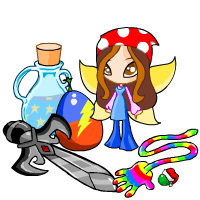 To put it simply, restocking is buying items from Neopets shops and selling them for a profit.
This means that you will need to have some Neopoints before you begin. It is recommended that you have 100,000-200,000 NP to begin with. For higher investments, you may even need more than that!
The two most important things about restocking are:
1. You have to be fast in order to beat the other restockers
2. You need to recognize which items are profitable and which ones are not
Both can be achieved with practice.
You would restock almost in the same way you'd normally go about purchasing an item from a Neopian shop. First, find the item you would like to buy. Click on it to be taken to a 'haggling' page. Do not haggle on this page, as this will slow down the process and could potentially cause you to miss your item. Instead, you should offer even more than the original price just to be safe.
For example, if the price of the item is 6589 NP, make sure you're offering above that price to guarantee the shop owner will accept your offer.
You should also go for numbers that are easy to type. It would take longer to type exactly what it the item is listed at (6589 in this case), and you might miss the item. "6666" is also slow to type out. Instead, you should try to use patterns, such as 6767, or 6789.
Finally, as you're clicking on the Neopet in that image, make sure that you're accurate, or else you might miss and you'd have to go through the process again and lose more time… yikes!
You'll then be (hopefully) presented with a page that tells you that your haggle was successful. Cheer, pat yourself on the back, maybe throw a party or two. Then, start refreshing five minutes later to catch the next restock!
When you are just starting out, you want to aim for shops that are easy (and therefore have relatively lower profit). These include the book shop, the food shop, and the pharmacy.
As you become more comfortable with restocking, you'll be able to move up the ladder to petpet shops, clothing shops, collectable cards, and the gift shop.
Very profitable shops include weapon shops, Meridell food shop, and the magic shop. There are some big items in the pool, but keep in mind that these places are where the most skilled restockers make their home!
Finally, remember that these shops that I've listed are merely guidelines. The important thing is to know where you sit the most comfortable in the spectrum of profit and competition.
Which items should I restock?
Here is where you will need to do a bit of research.  You should find out the items that sell in your shop, the prices you need to buy them for, and the prices you could sell them for. The rule I generally go by is over 10% profit for easy to sell (ETS) items and over 30% for hard to sell (HTS) items. Try to find the items that seem worth the effort for you personally!
It may seem overwhelming at first to learn all the different items, but the good news is that as you familiarize yourself with the shop, you will get better and better at picking out the profitable ones.

On the third day of every month, it's half-price day. Items are half-off that day, but that also means that more users will be competing, so beware.
If you have a slow connection or are just beginning, you may want to restock in the early morning or late at night (Neopets time) – when most people would be sleeping. During work days, you should go for midday if possible, when everybody else is at work or school. The timing is important to limit your competition.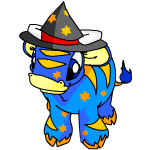 - If you have some items you want to buy in a specific price range, you could put the price on your clipboard to make haggling faster! For example, if you know you're buying items in the 10,000 NP range, you could copy "11,000" onto your clipboard. When you are on the haggle page, simply paste "11,000" instead of typing the number.
- At the same time, make sure your price is not too high! The shopkeeper will make you haggle again, which will only slow you down.
- Sometimes, the shop might be empty for a long time! Don't panic; this simply means that you are temporarily banned from restocking (likely because you refreshed too much). It will be over in a few hours.
- TNT only lets you buy one item every five seconds, so keep that in mind!
- You'll be presented with a popup that confirms whether you're sure you want to buy the item. Keep one finger on the spacebar! Instead of clicking "OK" with your mouse, press "space" to save time. Remember that speed equals profit in the world of restocking!
There are other places in which you can restock other than the main shop. These include the Almost Abandoned Attic (AAA) and the Igloo Garage Sale. There is no haggle page for these shops. You click on the item you want to buy and a popup will appear asking whether you are sure you want to make the purchase. Remember to press space instead of clicking on "OK".
There are many guides tailored specifically to the profitable AAA shop. We suggest you check them out!

Restocking can be very rewarding as long as you are willing to put in time and patience. Hopefully this guide helped you a little. Good luck on your Neopoint-making adventures!
View more guides!